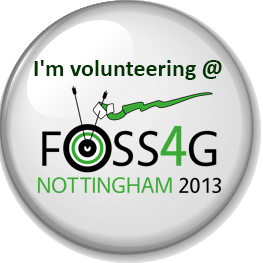 Getting involved with the conference will give you a unique opportunity to soak up the atmosphere in a different way. You will be playing an integral part in making the event happen and have excellent opportunities for networking with a wide range of delegates while supporting the LOC.
All of our volunteer day passes have now been allocated. If you are already attending the conference and are still able to volunteer then we would be glad to hear from you, please contact:  volunteers@2013.foss4g.org
Thank you to all of our wonderful volunteers, we couldn't do it without you and the response to our call for help has been amazing.